African Adventures has teamed up with Kent Scouts to offer its students a unique opportunity to volunteer in Zanzibar – and you're invited to join!
African Adventures is a unique volunteer travel company, dedicated to improving lives in the UK and Africa through volunteering. We work with three schools near Stone Town in Zanzibar which help improve the lives of the thousands of children who attend them.
Kent Scouts' 14-night trip takes place on 6th August 2026, where you'll help with teaching, sports coaching or building and renovations at one of our partner schools. Away from volunteering, you'll explore everything Zanzibar has to offer on our Taste of Zanzibar Weekend and Islands Adventure Day.
Online Information Evening: 21st November 2024 at 7.30pm
African Adventures started working in Zanzibar in 2014, after we formed our first partnerships with community projects near Stone Town.
Today, we support three schools in Zanzibar. We currently have partnerships with 26 community projects across Ghana, Kenya and Zanzibar, and support more than 22,000 children.
As a volunteer, you can help our partner schools improve the quality of education and extend their outreach by providing vital support with teaching.
Away from volunteering, you'll discover everything that Zanzibar has to offer with our Taste of Zanzibar Weekend which is a perfect mix of learning, touring and relaxation. You will get to discover the vast attractions of Stone Town, visit a spice farm and spend the evening relaxing at a beach resort. You will also get to snorkel in the clear blue water and take a traditional dhow boat to visit the giant tortoises that call Prison Island home.
You can choose between two volunteer roles.
Teaching & Multi-Sports
Classrooms at our partner schools are often overcrowded and under-resourced. By choosing a Teaching Assistant role, you'll help teachers to set and mark homework, deliver lessons (where appropriate) and help support small groups of students with their work. Core subjects include English, maths, science, geography, religious studies and sport. There are lots of resources on the My African Adventure portal to help you prepare for this role.
Building & Renovation
Volunteers who are hands-on and like to see a project through from start to finish should choose the Building & Renovation role. A large part of African Adventures' work includes the construction/renovation of classrooms, kitchens, toilets, walls, offices and assembly halls at schools. The work carried out, which is always led by a local builder, is often physical and can be hard work, but is suited to all those ready to participate.
The Location
Zanzibar is a semi-autonomous island off the east coast of Tanzania. Stone Town, near to where our partner schools are located, is a UNESCO World Heritage site, and has a population of around 16,000. Known as the 'Spice Island', Zanzibar is alive with incredible smells and sounds to enrich the senses. However, behind the tourism and the picture-perfect scenery lies a different story. Life can be very difficult and a large percentage of the population is surviving on less than 75p per day. We are working with our partner schools to improve their facilities and provide additional teaching support.
Where You'll Stay
You'll stay at a hotel in Stone Town, comprising two buildings, which is located just a short walk from the ferry terminal and Forodhani Gardens. There are 32 rooms which can accommodate 71 guests. It has a mixture of single, double, twin, triple, and family rooms, and each room is en-suite. There is a roof terrace where guests can relax in the evenings, and WiFi is available at the hotel. The hotel is staffed 24 hours a day, and a security guard is on duty overnight. There is also a restaurant, electricity, and outside areas for relaxing.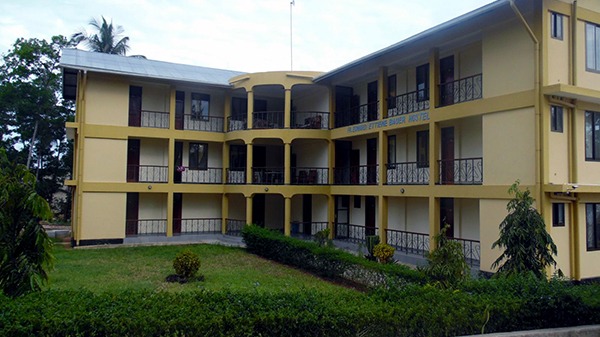 Departure Date
6th August 2027 (subject to flights)
Flying From
Indirect London Heathrow
Deposit
£200 to secure your place
Sign-Up Deadline
13th December 2024
First Instalment
£875 due by 1st May 2025
Second Instalment
£875 due by 1st May 2026
Third Instalment
£825 due by 1st June 2027
Nearly half of our volunteers raise more than half of their trip costs through fundraising, which is an important part of the African Adventures experience.
Fundraising can be great fun, and many of our volunteers tell us that this part of the experience is a great way to learn new skills, and get to know the other volunteers in their group.
Once you've signed up, you can set up your own sponsorship page on My African Adventure, which you can share with friends and family, or use to collect payments for fundraising events, that will help raise your trip costs. (This is only available if all your trip payments are being made directly to African Adventures.) It's free to use and 100% of all money raised goes towards your trip costs.
You can join our free six-weekly fundraising workshop webinars, where you'll hear from volunteers who have been there and done it before, and seasonal tips (Christmas/Easter etc.) for fundraising events you can try from the African Adventures team.
Plus, there's comprehensive Fundraising Support section for you to use on My African Adventure, where you can download money planners, event posters, bucket wraps and much more.
The Basics
General Questions
What support do I get?
Lots!
Most people who travel with us are visiting sub-Saharan for the first time, so you'll get access to lots of help and advice to get ready for your trip, including what to pack, when to apply for your visa, what your destination country is going to be like and much more. And once you've arrived, you'll be looked after by our friendly team of expert Trip Hosts.
If you have any questions about your trip, just give our friendly team a call, and we'll be happy to help.
Will it be easy?
No, but the most rewarding experiences rarely are! You are likely to be stepping out of your comfort zone, meeting new people, travelling to a new country, in a different environment and with a different culture.
This will be an exciting challenge for you but you will have plenty of support whilst you are away. Our trained Trip Leaders and Trip Hosts will be there to look after you and your fellow volunteers.
What vaccinations do I need?
If you've not been to this part of the world before, you'll need some vaccinations before you go.
Please visit your local GP or travel nurse for advice regarding which vaccinations you need. You can also visit www.travelhealthpro.org.uk or www.fitfortravel.nhs.uk for helpful information relating to each of our volunteering destinations.
Most vaccinations needed are available on the NHS. However, you will need to pay for the Yellow Fever vaccination and antimalarial tablets. More information is available on the My African Adventure portal.
Is it safe?
In a word, yes! Of course, there are risks with any form of travel, whether you're going to Los Angeles, Lima or London but hundreds of thousands of Britons travel to Africa every year and the majority of visits are trouble free.
At African Adventures, we have organised trips for over 7,000 volunteers and hold a wealth of experience. From pre-departure support and in-country orientations to knowing nearby hospitals and medical centres, we know how to deliver a safe and exciting experience. We are accredited by reputable travel bodies (see Trusted and Experienced) and we follow Foreign & Commonwealth (FCO) advice at all times; www.gov.uk/foreign-travel-advice.
Where will I stay?
Volunteers stay in single-sex, shared accommodation for the duration of the programme. In Ghana, the group will stay in a private guesthouse.
All accommodations have showers, flushing toilets and lockable rooms.
Further information (including pictures) is available on My African Adventure, our online portal accessible once you have signed up.
What happens if I can't raise the money?
About 50% of our volunteers raise at least half their trip costs through fundraising alone. With good planning, the right commitment and enthusiasm, you can too.
Once you sign up, you get access to a wide range of fundraising support. You can set up your own sponsorship page on your My African Adventure account to help raise money for your trip (if you're making all your payments directly to African Adventures), you can join free six-weekly online fundraising workshops, and there are lots of downloadable posters/bucket wraps to use too. You also get a fundraising t-shirt from African Adventures a few weeks after booking.
However, if it proves to be too difficult to raise the money you need, and you decide to cancel, you can do so at any time. Please be aware that the deposit is non-refundable and there are cancellation fees from the date of your first instalment.
Is African Adventures a charity?
No, African Adventures is a for-profit social enterprise.
Lots of our volunteers fundraise to cover their trip costs, which is an important part of the African Adventures experience. The money that volunteers raise pays for their travel costs, so things like flights, accommodation, tours, and the staff who deliver our trips. A portion of every volunteer's trip cost is also given to the partner school hosting the group, as a donation to fund the work being carried out.  
We do, however, have a charity arm called African Adventures Foundation. African Adventures Ltd funds the running cost of our charity, which means 100% of donations given to the charity are spent at our partner schools in Africa. You can read more about our official charity by visiting www.african-adventures.co.uk/foundation.
Information Evening Details
Online Information Evening: Thursday 21st November 2024 at 7.30pm
Join us for our Online Information Evening on Thursday 21st November 2024 at 7.30pm, where you can find out more about this life-changing volunteering trip. A member from our partnerships team will deliver a presentation to the group, which will cover:
Your trip destination
Where you will stay
Our partner schools
Volunteering roles
What's included
Your adventure activities
Safety
Fundraising
Throughout the presentation there will be opportunities to ask any questions.
Ready for an adventure? Fill in the form below to register your attendance for the information session: