In May I went on my seventh trip to Kenya with Derby County Community Trust (DCCT) to volunteer at the schools in Nakuru. It was again a massive success and one of my favourites. I look forward to going back again next year for DCCT's 10th anniversary trip.
Day 1
Our first stop on the way to Nakuru was to one of my favourite places, the David Sheldrick Trust, which rehabilitates elephants that have been injured in the wild. The host told us stories of each individual elephant and why they needed rescuing.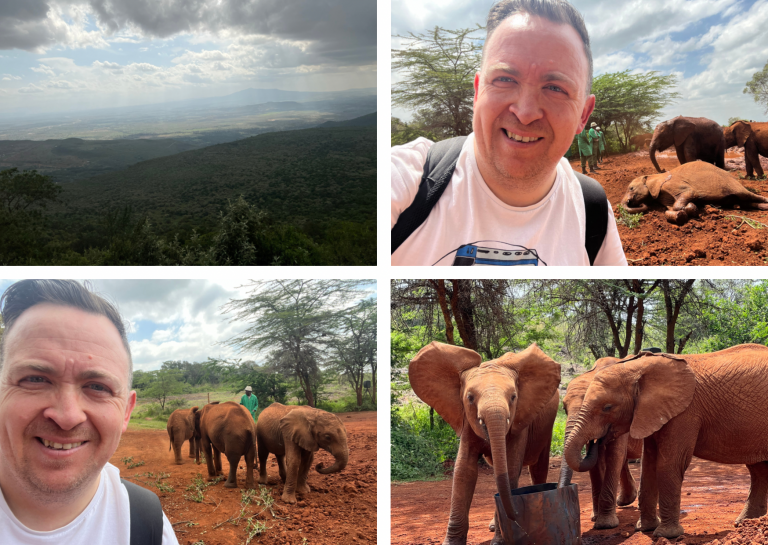 On the journey, we saw the beautiful surroundings of Kenya, the scenery is stunning. We visited the Great Rift Valley that runs from Lebanon to Mozambique, which can also be seen from space! We also saw giraffes, zebras and baboons freely roaming the lands.
Day 2
It's here! Our first day at West End Academy and what a day we had. The children are simply beautiful, happy and full of excitement that we were here laughing and playing with them.
We can see the work that we need to do over the next couple of weeks. We have two brand new classrooms to build, as well as demolishing and building a new kitchen. But today was mainly getting to know the children, dancing, playing football, making balloon animals and a whole lot more.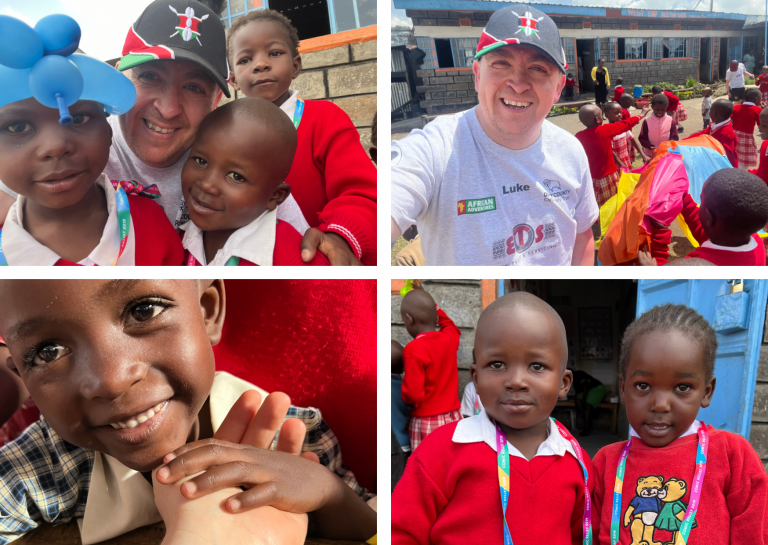 During a break, I decided to help with the food security programme at the school. The cook made mash potatoes and vegetables and I was in charge of placing the mash on to the children's plates. This was found to be very funny by the female teachers, as in the Kenyan culture, it is still very much the culture for women to be the cook and the supplier of food.
For the last part of the day, myself and 'Chippy' decided on the measurements of the new kitchen and with further help from the other Derby County Community Trust volunteers, we were able to level out the ground, ready for our first full day of constructing the new kitchen and classroom tomorrow.
Day 3
Hot, hot and hot. Well, that's what us English people are feeling right now. However, for the Kenyans, this is their winter and at 28 degrees, this is cold to them. Men and women wearing warm coats, hats and scarfs, where we are in our shorts and t-shirts.
We're back at West End and work continues on the kitchen and the classrooms!
Chippy, with the help of his guitar, and others performed some children songs to entertain the student's, 'Old MacDonald Had a Farm' and 'Heads, Shoulders, Knees and Toes' have never sounded so good.
The day was rounded off by giving the children afternoon snacks in the form of bananas. For some, this is the last piece of food that they will eat until lunch at school the following day.
Day 4
Dad and I, with the help of a little boy Moses, re-measured the kitchen to work out how much wood we would need and Valentine, the headmistress of West End Academy took us to a timber yard to collect it. We ordered 10 pieces, measuring 15 feet each, costing us £27 in total! It was even delivered to the school by a man pulling a cart. It's fascinating to see workmanship in Kenya and how they adapt to doing a job.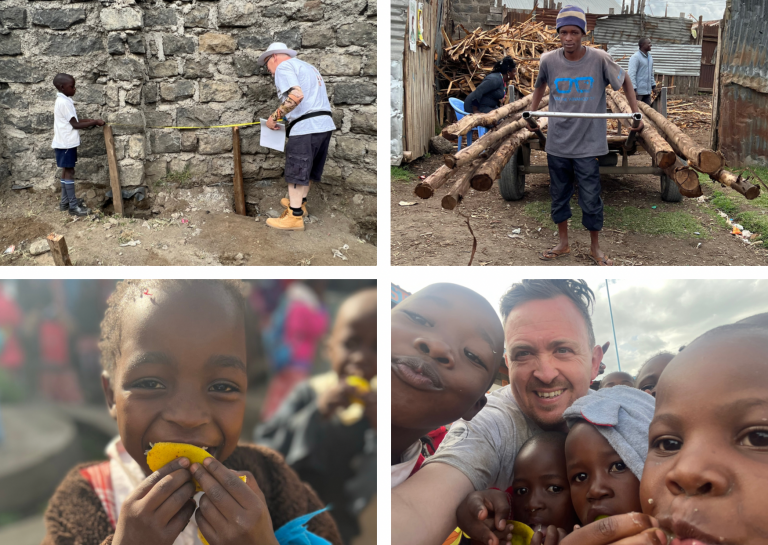 We have volunteers who are doing a beautiful job of painting the inside of a classroom. A stunning rainbow has been started with more to follow tomorrow.
Day 5
Today was like a 'blink and you'll miss it' sort of a day. It went so quickly.
When we arrived at West End Academy, it was straight to work completing the framework to the kitchen. The upright structures, all 11 of them, have now all been placed, cemented and are very secure and all the other 28 smaller pieces are ready to be nailed in place tomorrow. Valentine, is delighted by our progress and looking forward to seeing it completed.
The cement for the footings of the two-storey classroom is continuing very well.
Day 6
The double-storey classroom is really starting to make great progress. The Kenyan workers and Derby County Community Trust volunteers have worked extremely hard and the foundations are now in place. Strict guidelines from the Kenyan government need to be enforced after seven children died after a classroom collapsed at a primary school in Nairobi in 2019. All classrooms in the country now need to be permanent buildings which is what we are helping to do but there is still a lot to be done!
Day 7
Lake Nakuru is Kenya's most popular national park. The park's main feature is a large, shallow lake supporting great birdlife, including big flocks of pelicans and variable flocks of flamingos. It's something that I look forward to ever year. I love seeing animals in their natural habitat.
This year was extra special. We got to see many of the incredible animals that the park is home to. We saw lions, rhinos, both black and white, giraffes and hippopotamus' on safari. All a favourite of mine. It's just a truly special place to visit.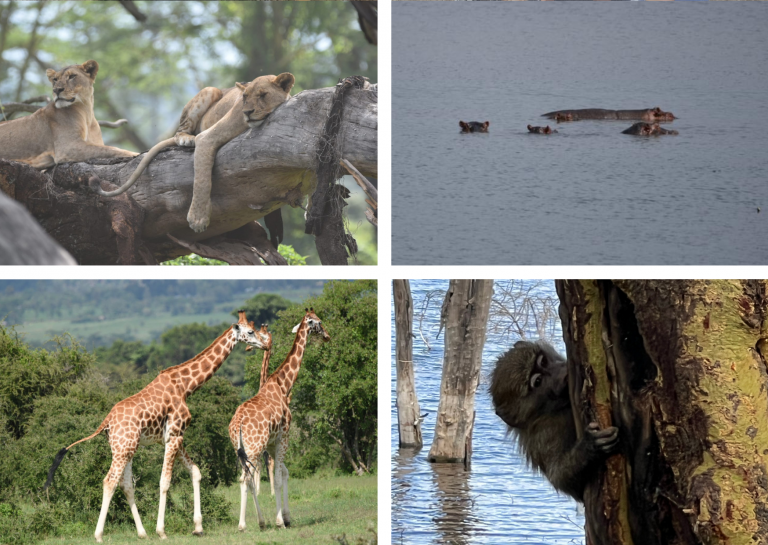 Day 8
I joined a few of the volunteers at a local wholesalers, where they were looking at school supplies, such as pencils and paper. After walking up and down the aisles, I saw plastic cups. West End Academy have very little cups, certainly not enough for every child. From learning about mental health over the last couple of years, I know how vital it is for children to have food and drink available, it helps with their learning. At just £10 for 100 cups, I didn't hesitate to take up the opportunity to buy them for the school. I can't wait to give them to the children tomorrow.
Day 9
What a day! I can safely say that this is one of the best days that I have ever had in Kenya on any of my trips. I won't mention about the kitchen and double storey classroom that we are building; they are still going really well. Instead…
I was able to give my 100 cups that I purchased from the wholesalers to Valentine, who was a little emotional when I gave them to her. Almost immediately she handed them out to class. I didn't notice it at the time, until a small boy, maybe four years old, walked up to me with a cup in hand. That made me extremely emotional. As described yesterday, without food or water, children will not be able to learn effectively.
Over the previous six trips, we have worked at St.Trizah School, Mama Kerry and now West End Academy. But from my first trip in 2014, I met James, a young 10 year boy. Every trip, I have been able to see him but now in 2022, he is 18 years old, left school and the last conversation I had with him was that he was moving to Nairobi, nearly 200 miles away. However, as I jumped down from the minibus, I heard him shout my name and like a scene from a movie, I chucked my bag onto the floor and embraced him. What a surprise. We spent the next couple of hours talking about the last couple of 'covid' years and his dreams and aspirations for the future.
Day 10
Today we visited The Walk Centre and The Hilton Dumpsite.
The Dump is always heartbreaking, but even more so now. It has easily doubled in size since our last visit and 10,000 people now call it home, living in make shift homes, searching for bottles and steel to sell to feed themselves. This year we saw men and women searching for broken shoes and trainers, so that they can be repaired and sold.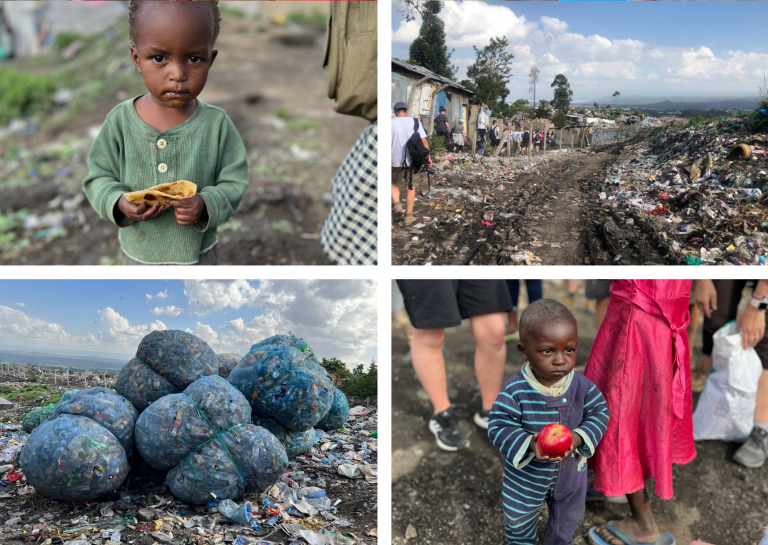 Day 11
It's Madaraka Day, so instead of lessons, the children were playing games and singing Kenyan and English songs. We took footballs, frisbees and skipping ropes into school from a previous day, so they had lots to do.
Now that the foundations are finished for the double-storey classroom, the bricks that have been cut to size by hand, using a machete, are starting to be placed and the classroom is starting to look like a proper building.
We had an amazing evening. We had a surprise visit from Joseph, Alice, Diane and Lilah, who we all originally met at St.Trizah. It was beautiful to see them, to reconnect, and to reminisce.
Day 12
It's always a tough day when we go on home visits to see where the school children live and also the giving of donations that we have brought with us.
During a break in construction work, I decided to teach a class. I took the eldest year and talked to them about the importance of talking to family, friends or teachers about how they are feeling, especially if they were feeling low. Between two children, they all shared a copy of my book, 'The Mental Health Moles' that I wrote last year and altogether they read a few of the chapters out loud.
We met a young man who used to attend West End Academy a few years ago. He is now a trained Plumber, which is a testimony to the school.
Day 13
Our final day and an earlier start for a few of the volunteers, including myself. It has become a bit of a tradition for us to provide a lunchtime meal to the school children, teachers, and labourers on the last day.
We set off to the supermarket, collecting hot dog buns, frankfurters, onions, cucumbers, tomatoes, water, orange squash and not forgetting tomato ketchup.
Upon arrival to West End Academy, we were greeted to a beautiful red ribbon and bow to the kitchen. It was completed and ready to be opened!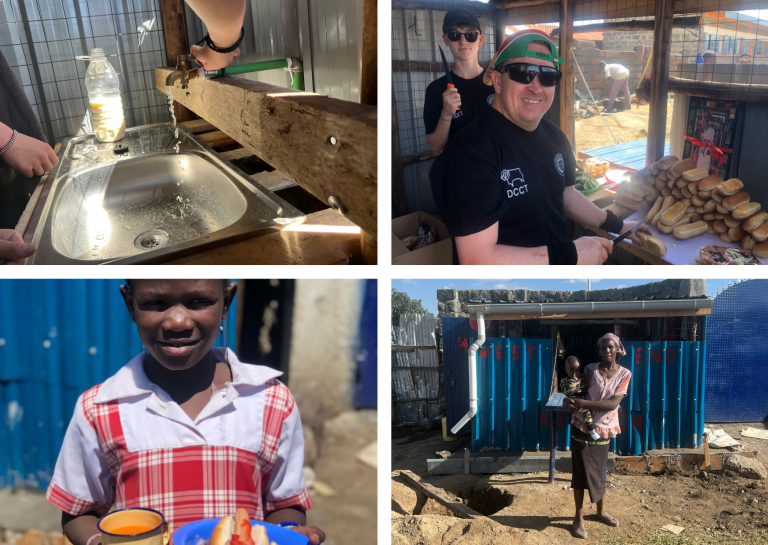 Before the end our final day, the whole school, including teachers and headmistress delivered a beautiful presentation to us, thanking us for the hardwork that we had achieved.
I will be returning in May 2023 for my eighth trip with Derby County Community Trust who will be travelling for the tenth time. If you are interested in joining DCCT's trip you can find out more here.