As I sit and reflect on our volunteering trip to Nakuru, Kenya, with the Foundation of Light, the quote "When you visit Africa, you never leave. Part of Africa will stay with you forever" seems to accurately paint the picture of the impact that the last nine days will have on our lives. I would like to think that there is a significant part of Africa that will never leave me.
Day one
We arrived at Jomo Kenyatta Airport in Nairobi and upon exiting the airport, we were greeted by Leah, our trip host from African Adventures who directed us to wait for our driver Mike. He drove us to our hotel for the night. When we arrived and were shown to our rooms. As well as our bedrooms with en-suite bathrooms, we also had a living area, a dining area and a kitchen.
Day two
We sat down for breakfast including omelettes, boiled eggs, bread, banana, watermelon, tea and coffee, before Mike arrived ready to take us on our journey to Nakuru.
After breakfast we embarked on an amazing journey to Nakuru. As we passed the perimeter of Nairobi National Park, we spotted our first giraffe from a distance, but soon we would see a huge variety of wildlife a lot closer to us at the side of the roads. We passed many zebras, donkeys, monkeys, cows and goats.
Our first stop was at the Great Rift Valley Viewpoint, where you could see for miles over the spectacular plains.
We were soon back on our way, but stopped again for lunch in Naivasha, home of Hell's Gate National Park, which is where the main locations from the Lion King were modelled on, including Pride Rock and the Gorge. At the Buffalo Mall we ordered some delicious burgers and stocked up on bottled water and snacks from the supermarket, before continuing on our way to Nakuru.
We arrived at Hotel Kunste and after a weekend of travel, we were given the rest of the evening to become accustomed to our surroundings, unpack and then relax in the bar for several hours to end the evening. Dinner was served at 7pm, as became our nightly routine, and we had stewed chicken, ugali, chapati and spinach, all of which I found really nice.
Day Three
After breakfast, we met Leah in a meeting room upstairs and we got to meet Fred for the first time. He spoke to us about Kenyan culture and life and set some expectations for what we would get out of the week, before taking us on the 20-minute drive to our project at Ungana Academy.
Upon arrival, we were greeted by Catherine (Founder/Director), Marion (Manager and Catherine's daughter) and Jacintah (Secretary). We were welcomed and shown around the school. We were told that all of the children attend church with their families on Easter Monday and that despite the open-door policy during the holidays, we would not be expecting many that day.
By the time we had been shown around, done some introductions, around 70 children had arrived.
We blew up the six footballs that we'd brought for them and started a game of unlimited players per side. We also had frisbees, bouncy balls and bubbles, all of which proved a massive hit. The children seemed very happy to see us and we had so much fun getting to know them.
Day four
We headed for our second day at Ungana with our donation cases which Catherine was incredibly grateful for.
In the morning, the children filtered into the classroom, and we got to teach them. We started with 'a day at the farm' and started to draw various animals for them to copy. The kids copied the drawings and interacted by telling us what other animals we could have had, before we all sang Old MacDonald together. The children then sang us their favourite song, 'Johny Johny Yes Papa'.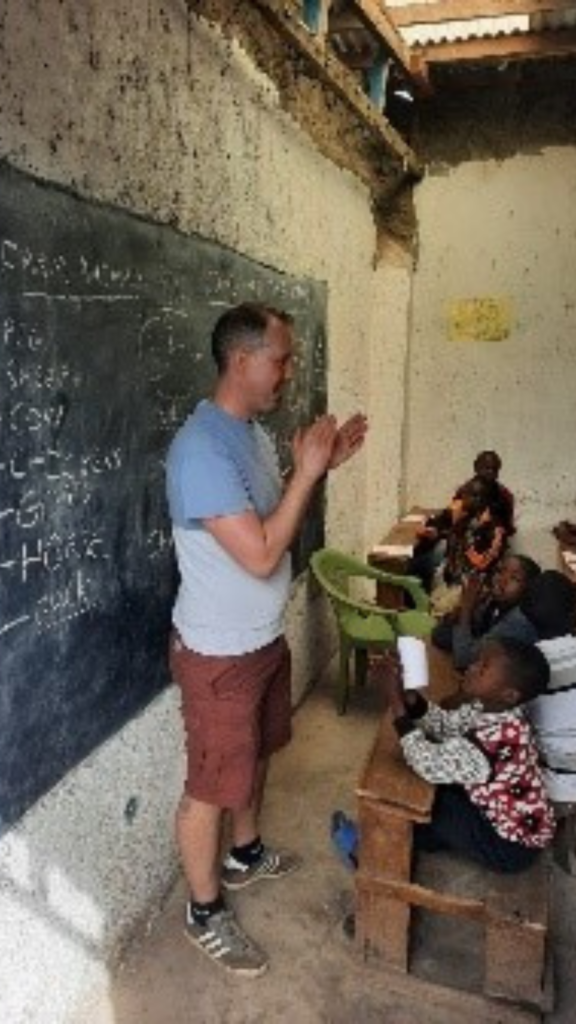 After lunchtime, the musical theme continued into the afternoon and the highlight was teaching around 100 kids the Macarena, which everyone did together in the yard.
In the evening we got the opportunity to go to the craft market, which was a good experience.
Day five
We were collected in the morning to go on safari in Lake Nakuru National Park. We saw giraffes, zebras, buffalos, warthogs, monkeys, gazelles, antelopes and endangered black rhinos. On the lake itself there was the most incredible number of flamingos and pelicans that I've ever seen, and we also witnessed a family of hippos swimming across the lake.
After four hours on safari and lunch, we headed to the equator where we got to watch an interesting science demonstration.
We then headed to Thompson Falls, one of East Africa's biggest and most picturesque waterfalls.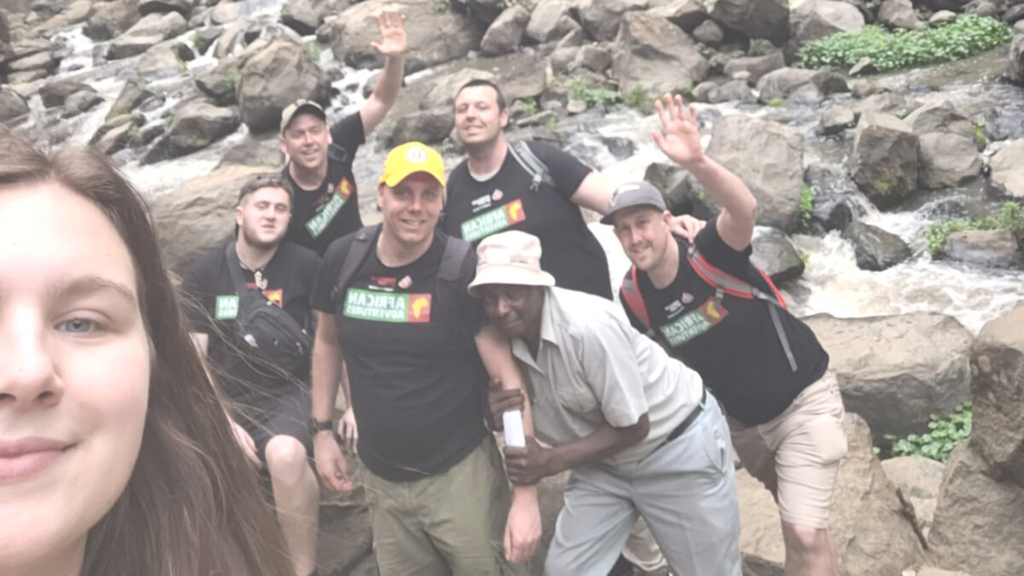 Day six
We headed back to Ungana, where we started by teaching the youngest children again and we drew some shapes for them to copy, as well as some numbers and simple addition. After a couple of hours teaching, we headed outside for play time and games including the largest game of football yet.
After lunch Fred picked us up and took us to The Hilton Dump. Homes are essentially made from sheets and other very basic textiles and the smell from the rubbish is overwhelming. Lorries arrive multiple times per day and simply tip all of the rubbish from the community, none of which are in bags, into an ever-growing pile near to these people's homes. There were many people rummaging through this rubbish, looking for things to eat or anything that could make them some money.
Day seven
For our penultimate day, we headed back to Ungana for a final time, and it would prove to be a hugely emotional day. Michael and I delivered a lesson on the history of Sunderland to the older kids, building on some work they'd done the previous day.
After the morning lessons, we joined in another hugely energetic game of football.
We then inspected Mark and Ryan's paintwork and they'd done a brilliant job before we each added numerous handprints and Faith added the words 'FoL SAFC.' It was great to see what the finished job looked like, and Mark and Ryan can look back on that with a lot of pride.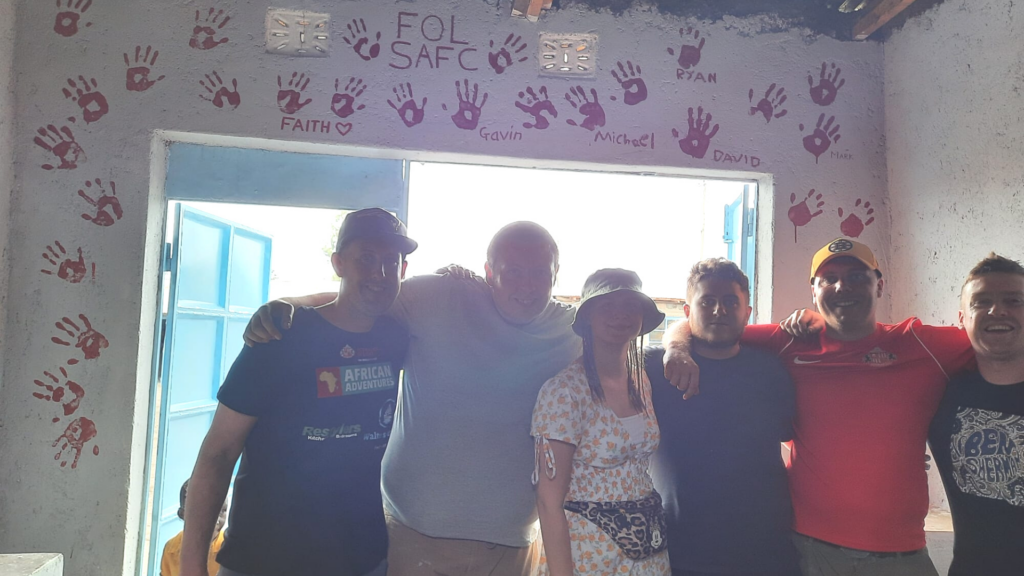 We then sat down for a special farewell meal and celebration. We then performed the dances that we'd been learning for a few days.
We then said an emotional goodbye to the kids who came out to the bus to wave us on our way. I was trying to hold it together until I got on the bus and realised there weren't many dry eyes and that set me off crying.
At the hotel we received a surprise visit from Leah, Marion and Jacintah who joined us for a farewell drink.
Day eight
We arrived at the Giraffe Sanctuary and what an amazing place it was. There was a long walkway where you could go up to see the giraffes at eye level and we all got the opportunity to hand feed them.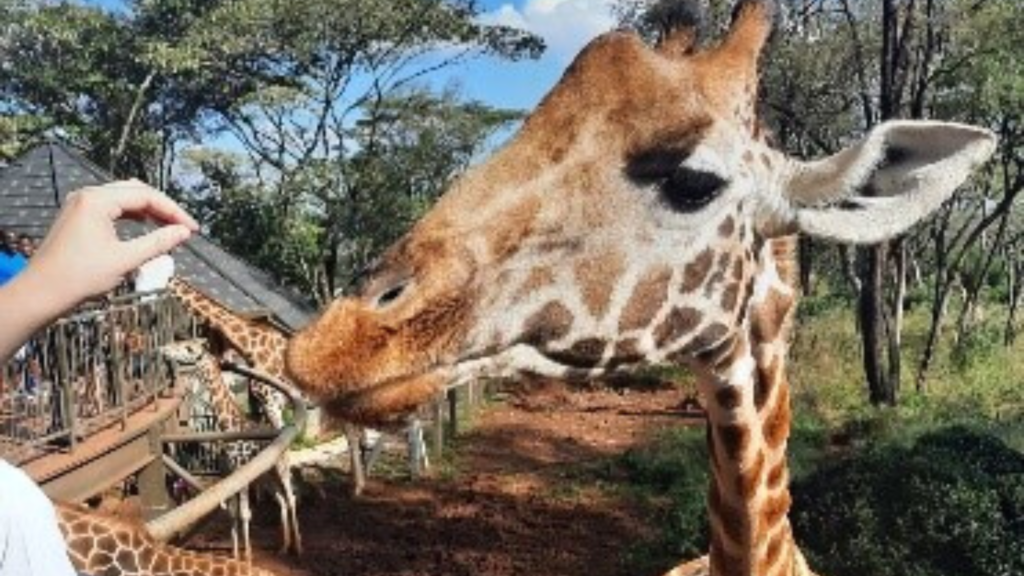 We then headed to a nearby shopping centre for dinner and were then dropped off at the airport.