After two years with no trips, it's been absolutely fantastic to see volunteers return to our partner schools in Africa over the Easter period.
Since the end of 2019, the schools we work with in Ghana, Kenya and Zanzibar have had to manage without the extra financial and practical support that they would normally receive through our volunteer programme, and as a result there is a huge backlog of development work waiting to be completed.
Our Easter groups were the first volunteers to help tackle some of the backlog when they headed to Africa earlier this month. Read on for a round-up of our Easter volunteer programme!
Ghana
Burton Albion Community Trust
"What an amazing time we have had. People keep asking me how it was, and I still haven't found the best way to describe it. Everything exceeded our expectations" – Paul Gaskin, Community Engagement Manager at Burton Albion Community Trust.
The Brewers headed for the vibrant West African nation of Ghana for their 10-night trip, which would see them spend five days volunteering at Tegbi EP School in the rural Volta region.
At the school, the volunteers from Burton Albion helped paint two Kindergarten classes with bright, engaging murals and began the construction of a canteen. They also helped run sports sessions for the children and provided extra support in the classroom.
Away from volunteering, the group enjoyed a relaxing overnight stay at a nearby beach resort, located on the edge of the beautiful Keta Lagoon and a few minutes' walk from the golden beaches of the Atlantic Ocean.
Paul reflects on his experience in Ghana and how he sees Burton's long-term partnership developing:
Tranmere Rovers in the Community
Tranmere Rovers also recently returned from their trip to Ghana, where they spent a week volunteering at Woe EP School and Dedzidi Community School.
At Woe EP, the group helped paint the school's new canteen and two of the classrooms, as well as helping with sports coaching and teaching in lessons.
At Dedzidi, a major construction project has been underway since 2014 to build a two-storey, eight-classroom block. This will help to dramatically reduce overcrowding in lessons and enable the school to provide an education to more children from the local area. The Coronavirus pandemic unfortunately put a stop to construction work, but, with volunteers now able to return to Ghana, we hope to complete the build by 2023.
The volunteers from Tranmere were able to get the build moving again by carrying out renovations to the completed classrooms in the new block. They also lent a hand with sports sessions and teaching in lessons. We're looking forward to subsequent volunteers picking up the baton at Dedzidi and making even more progress with the build!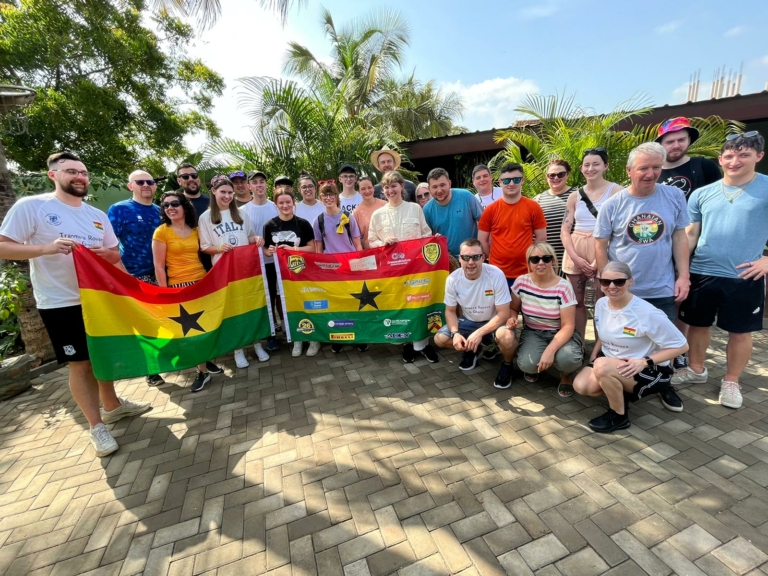 Kenya
Aston Villa Foundation
Aston Villa Foundation set off for Kenya at the start of April for a week of volunteering in Nakuru – Kenya's fourth largest city – where our partner schools are located.
During their trip, the group helped with the construction and renovation of two classrooms at Cherish School. Cherish moved to a new, larger site towards the end of 2019, and the school has been busy building new facilities for its students to use, including permanent classrooms.
In their downtime, the Aston Villa volunteers enjoyed our famous Rift Valley Adventure Day, which includes a breath-taking safari drive through Lake Nakuru National Park, a visit to the Equator to see the Earth's gravitational pull in action, and a hike down Thomson Falls – one of the deepest waterfalls in East Africa.
"What a week I had working at Cherish School in Nakuru. It truly was a humbling and gratifying experience. Seeing the smiles on the children's faces every day, hearing their laughter, their excitement when playing games. Nothing can top that. I look forward to returning to Cherish School in the future and seeing the progress the school, and the children, have made." – Ricky Parmar, Aston Villa Foundation Volunteer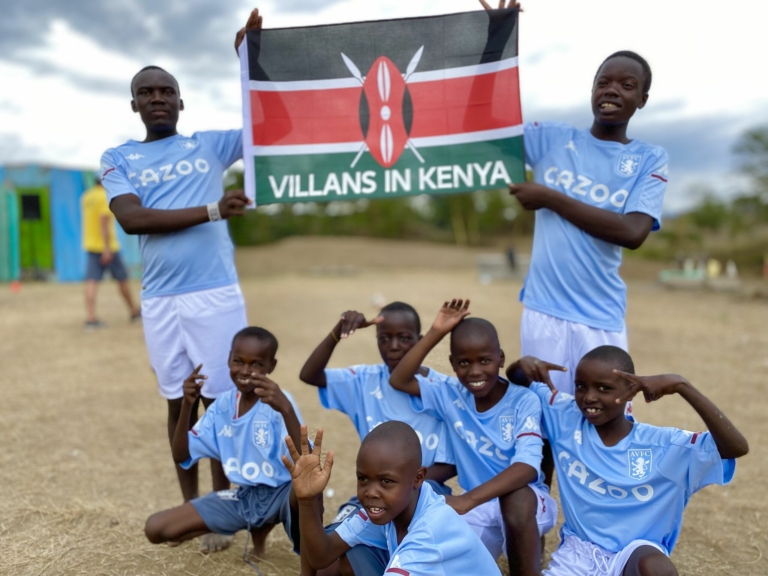 Chichester College Group
Students and staff from Chichester College Group spent two weeks in Nakuru over Easter, where they volunteered at The Walk Centre. This trip marked the 11th time that students from Chichester College Group have volunteered with African Adventures in Kenya, and we can't thank them enough for the incredible support they've shown our partner schools over the previous decade.
During their time at The Walk Centre, the volunteers helped paint the school's classrooms, blackboards and kitchen. They also assisted with the construction of a new office block.
Away from volunteering, the group experienced both our Rift Valley Adventure Day and Taste of Kenya Day, which saw them enjoy a lesson in Swahili, try their hand at some traditional Kenyan cooking and visit the spectacular Menengai Crater.
"As our trip comes to an end, I have to reflect on the profound impact it has on staff, students and the partner schools, even after 10 years and 13 groups from Chichester College Group. It still amazes me. The value of volunteering is always huge, but opportunities like the one we participate in continues to be life-changing for all involved…I would recommend this opportunity to anyone." – Lisa Humphries, Group Director of Student Services and Pastoral Support at Chichester College Group
Foundation of Light
Last but not least, Sunderland AFC's official charity, Foundation of Light, also headed for Kenya this month.
The group from Sunderland spent one week volunteering at Ungana Academy in Nakuru, where they helped paint the school's kitchen and caretaker's room. They also helped finish building a new toilet block, and assisted with sports sessions and teaching in classrooms.
Foundation of Light volunteers help coach a sports session at Ungana Academy:
We can't thank our Easter volunteers enough for the time and energy they've put into supporting our partner schools, and we're over the moon to finally see volunteers back in Africa.
There is still so much work to be done at our partner schools. If you're interested in picking up the baton and arranging a group volunteering experience, please click here.