From skydiving to hosting a football tournament, there are lots of different ways to fundraise, but knowing where to start and how to organise the logistics of a fundraising event can be tricky, which got us thinking… how can we support our volunteers to reach their fundraising target?
To help our volunteers with their fundraising journey, we are running half-termly online fundraising workshops, led by Gill, our Partnerships Co-ordinator, and a selection of experienced guest speakers. In our workshops, we'll be talking about the different ways to fundraise, sharing our top tips and giving you new fundraising ideas to try.
"With over 40% of our volunteers in 2022 raising between 50-100% of their trip costs, fundraising is a great way to generate financial support to cover your trip cost. Our Fundraising Workshops will give volunteers an opportunity to learn more about fundraising and feel motivated about reaching their target."  Gill, Partnerships Co-ordinator
Thursday 6th October saw our first online Fundraising Workshop take place with over 90 volunteers attending. Gill started the workshop with an introduction to fundraising and was then joined by Anna Gibson, from easyfundraising. Anna spoke about how our volunteers can earn free cash-back donations towards their African Adventures trip by simply shopping online through easyfundraising and how to use your entrepreneurial skills to think outside the box when it comes to fundraising.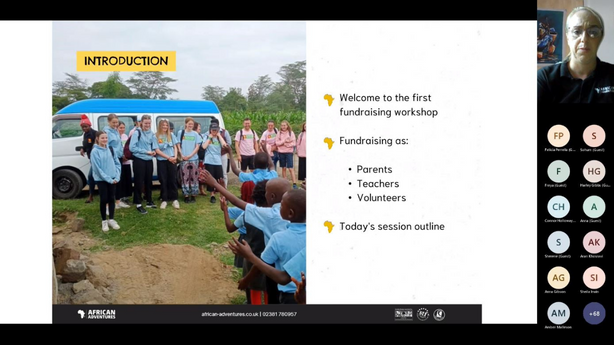 Gill was then joined by fundraising expert and group leader Alan Noakes, from Kents Scouts, who spoke about the mindset of fundraising, how to get over the fear of fundraising and how to tell your fundraising story to generate more success.
"I encourage all young people to make fundraising part of their trip. The skills that you can learn from fundraising will add value to the whole experience of going on a volunteer trip." Alan Noakes, Group Leader.
Our next Online Fundraising Workshop will be taking place on Thursday 24th November at 6 pm, where we will be joined by Anna Gibson from easyfundraising, who will be talking about how to get the most out of fundraising during the Christmas period. Will Newbolt, Partnerships Manager at African Adventures and previous group leader, will also be joining us to share his top tips to help boost your fundraising totals and how to organise a fundraising event.
All volunteers who have a place on one of our upcoming trips will receive an invite via email to join our next workshop or you can book your place via the fundraising section on My African Adventure. If you have any questions, please email us at volunteering@african-adventures.co.uk.