Here at African Adventures, we love Zanzibar! Its crystal waters, sandy beaches, amazing wildlife, and diverse culture all make Zanzibar a beautiful setting for a volunteer trip to Africa, allowing you to explore this hidden corner of the globe while making a difference at our partner projects. If this hasn't persuaded you to grab your passport and head to the airport, here are 10 facts about Zanzibar that you might not be aware of…
1. Zanzibar is not just one island
It is a common misconception that Zanzibar is just one island. In fact, it is an archipelago of islands located in the Indian Ocean. There are several smaller islands and two larger ones; these are Unguja (colloquially known as Zanzibar), and Pemba Island. Further south is Mafia Island, which is part of Tanzania's Mafia Archipelago. The total population of Zanzibar is around 1.3 million people.
2. There are some rare creatures on the islands
Zanzibar is home to the red colobus monkey, the Zanzibar servaline genet, and the Zanzibar leopard. The red colobus monkey is an endangered species, and its population is still decreasing. These amazing primates can usually be found in the Jozani Forest, unlike another of Zanzibar's critically endangered animals – the Zanzibar leopard. It is unclear whether there are any Zanzibar leopards left on the island, and experts have previously stated that they are extinct, but potential sightings in recent years have renewed hope that the population is surviving. Another rare animal that resides in Unguja is the Zanzibar servaline genet. These cat-like animals were first discovered in the 1990s, and first photographed in 2003. The servaline genet was known to locals for some time prior to its discovery by zoologists, and these animals have only recently been classified by scientists. The genet is distinct in appearance, with black spots on tan-coloured fur, and their long tails are ringed with black and light-coloured bands. There are no lions, elephants, or giraffes in Zanzibar. Whilst these animals can be seen on safari in mainland Tanzania, the beauty of Zanzibar's wildlife can mostly be found in the water, with some beautiful coral and amazing snorkelling opportunities. Zanzibar's marine life can be experienced in all of its glory on our Ocean Safari, which is a popular choice for our volunteers.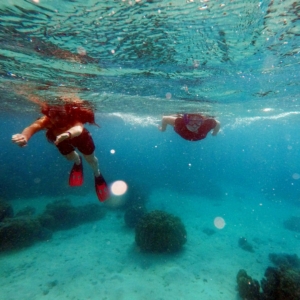 A volunteer snorkeling on the Ocean Safari in Zanzibar
3. The capital of Zanzibar is not Stone Town
Many people think that Stone Town is the capital of Zanzibar. In actual fact, the capital is Zanzibar City, in which Stone Town is situated. Stone Town is certainly a must-see when visiting Zanzibar, with its narrow streets, coral stone buildings, and spice markets, all of which make the city a centre point of Zanzibari culture. Stone Town is an UNESCO World Heritage Site, and is famous for the elaborate wooden carvings which can be found in the doors of most buildings in the city. The carvings are all subtly different in their designs, reflecting social status, ethnicity, and religion; some designs feature verses from the Quran.
4. Zanzibar has two rainy seasons, but for the most part Zanzibaris enjoy a warm climate all year round
Like most East African countries situated near the Equator, Zanzibar has equal days and nights of 12 hours each. Its two rainy seasons are split into short and long seasons; the long rainy season occurs between March and May, and the short rainy season takes place in November and December. For the most part, however, Zanzibar boasts hot summers and pristine blue skies, which allows tourists to make the most of its beautiful sandy beaches.
5. Zanzibar is famous for its spices
Second only to tourism, spice farming forms a major part of Zanzibar's economy. The islands are sometimes referred to as the Spice Islands, due to the cloves, nutmeg, cinnamon, and black pepper that are grown there. With our Taste of Zanzibar Day, you can learn about Zanzibari culture as you explore the city of Stone Town and take in the sights, smells and tastes of the spice farms.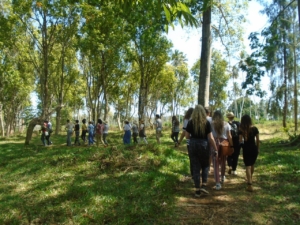 Volunteers visiting a spice farm on the Taste of Zanzibar Weekend
6. Freddie Mercury, lead singer of Queen, was born in Zanzibar
One of the most famous musicians in the world, Farroukh Bulsara – who you might know as Freddie Mercury – was born in Zanzibar in 1946. The charismatic performer, along with the other members of Queen, was inducted into the Rock and Roll Hall of Fame in 2001, following 15 studio albums and unprecedented global success. There are many tributes to Freddie Mercury at various locations around Stone Town, and Queen fans flock to the Shangani area of Zanzibar, where he grew up.
7. Islam is the dominant religion on the island
The majority of the population is Muslim, and Islam is widely practised. There are a number of mosques on the island; one of the oldest is the Kizimkazi mosque in Dimbani, on the main island. There is a small Christian minority in Zanzibar, and the cathedral in Stone Town is a prominent landmark, having undergone restoration work in 2016 at a cost of €1,000,000.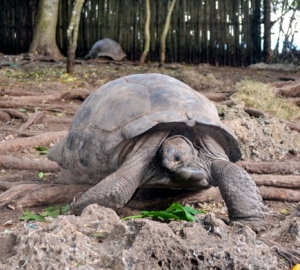 You can visit Prison Island during our Zanzibar Island Adventure Day
8. The main language is Swahili
Swahili is the official language of Zanzibar, but many locals speak Arabic and English. Other European languages such as Italian and French can also be heard throughout Zanzibar. Swahili is widely spoken throughout East Africa in countries such as Kenya, Tanzania, Democratic Republic of the Congo, Rwanda, and Uganda. The name "Swahili" comes from the Arab word sawahil, which translates as "coast".
9. Union Day is a national holiday
On April 26th, Tanzania and Zanzibar commemorate the founding of modern-day Tanzania through the union of Tanganyika and Zanzibar on 26th April 1964. The day is usually filled with patriotic speeches by politicians, as well as parades by school children and local organisations across Tanzania and Zanzibar. One of the largest parades takes place in Dar es Salaam, Tanzania's biggest city and former capital.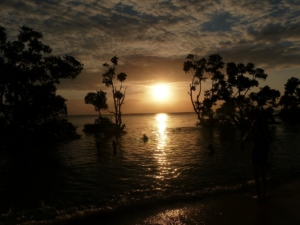 You can always rely on a glorious sunset in Zanzibar
10. The current flag of Zanzibar was adopted in 2005
Zanzibar's current flag is only 14 years old. The three horizontal lines of blue, black, and green are complemented by the inclusion of the flag of Tanzania in the top corner. Prior to the current flag, Zanzibar shared the Tanzanian flag, which was adopted in 1964. Before this date, Zanzibar's flag looked very similar to today's version, but did not have the Tanzanian flag in the corner. In total, Zanzibar has had six different national flags since 1856. The semi-autonomous region once had a flag of three horizontal stripes of black, yellow, and blue, which was used for 17 days in January 1964.